Check this out! What we do
How can I become an Apprentice?
6 basic steps you must complete to get into the apprenticeship program:
Please keep an eye on our calendar of events for Information sessions, beginning September!
Attend an Informational Session!

Informational Sessions are held each month from September through December.
Wages, school hours & school location, dues, benefits, types of work performed, and cost to the apprentice will be discussed along with answering any questions that may arise.
NOTE: Please click on the full calendar to find a session to attend. At that time you will be able find all of the details by clicking on the Upcoming Event or click "view full calendar" to find a session that fits your schedule.


Complete the checklist of required documents needed to apply

this checklist is handed out at the end of the Informational Session.

Once your checklist is completed

fill out an application to submit the required documents from the checklist.
take the Mechanical aptitude exam (use of hand tools)

You will be qualified and scheduled to take our aptitude test.

Tests are schedule for February

If you score a 4 or better on the 1-9 scale of the aptitude test:

you will qualify for an oral interview
Interviews are scheduled for April.

You will be ranked on the average of:

Your 8 interview scores
Your aptitude exam score
Who Are We? What Do We Do?
The National Electrical Contractors Association (NECA) and the International Brotherhood of Electrical Workers (IBEW) jointly sponsor apprenticeship training programs that offer you the opportunity to earn wages and benefits while you learn the skills needed for a trade that can be both challenging and rewarding. You will have the chance to use your mind, as well as your physical skills, to complete work in a variety of settings with the constant opportunity to learn something new.
The Springfield Electrical Joint Apprenticeship Training Committee's goal is to provide the highest quality training to those interested in a career in the electrical industry.
Where Do We Work and Train?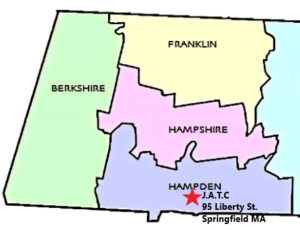 Local 7 serves the Western Massachusetts counties:
Hampden
Hampshire
Franklin
Berkshire
We provide classroom education located in Springfield MA, and on the job training within these counties. You get paid a living wage (and a FULL BENEFITS package) while you learn!
Some of the basic requirements for becoming an apprentice are:
Minimum age 17 to apply, 18 to go to work
High School Education or GED
One Year of High School Algebra
Qualifying Score on an Aptitude Test
Drug Free
Drivers License
Live within the 4 Western MA counties
This online brochure is intended to help you make an informed decision about whether or not you would like to pursue an electrical apprenticeship. It will explain how the application process works. It has three parts: